DR. G. RAMACHANDRAN LIBRARY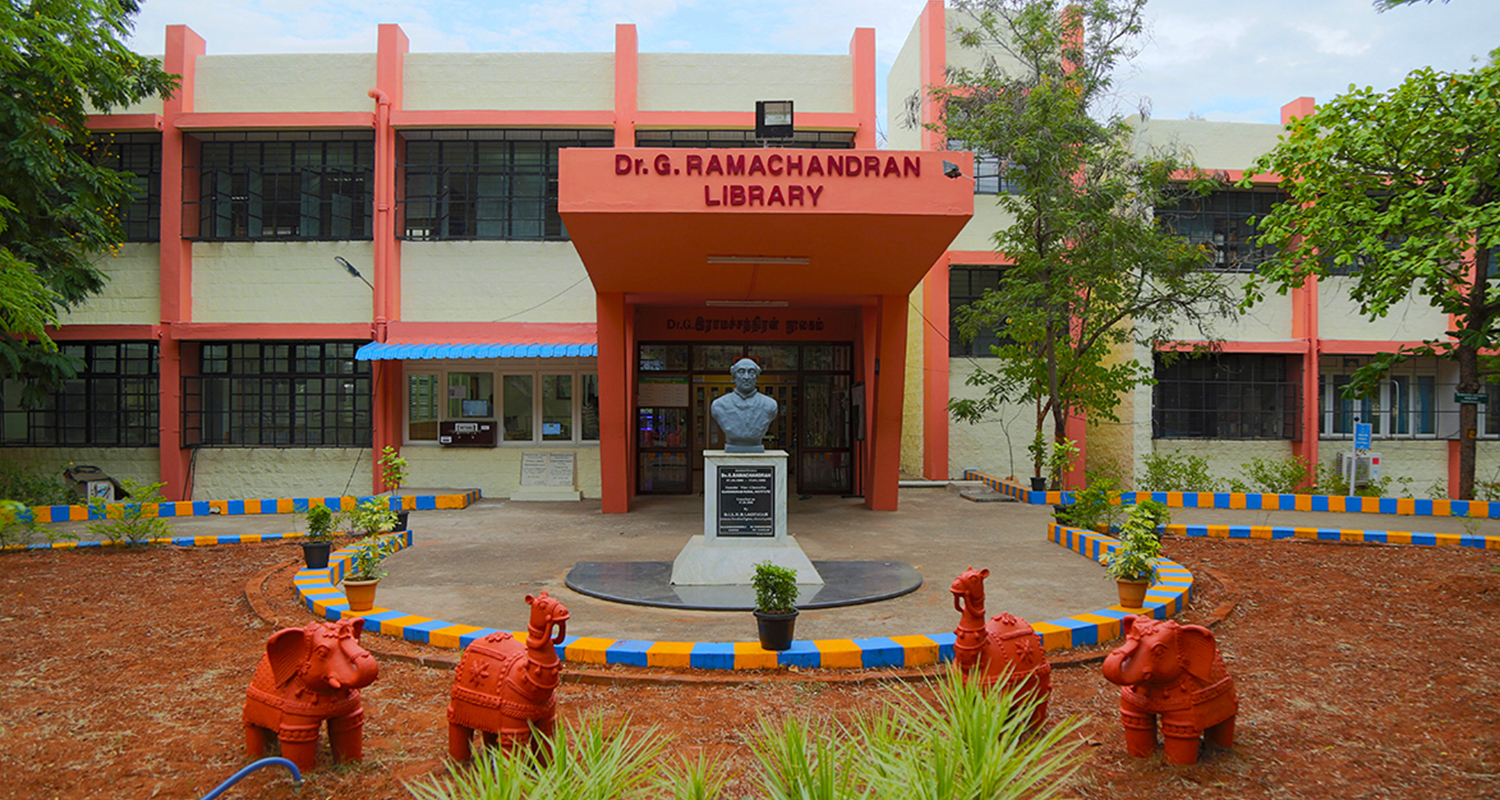 About Library
The Gandhigram Rural Institute Library was established in 1956. It moved to the present building during 1987, stocking over 1.79 lakh books and 284 printed Indian journals in a separate journal section. The Library is named after the Founder Vice-Chancellor Dr. G. Ramachandran. It has computerised circulation service and provided with OPAC facility to know the availability of the documents (books etc.). KOHA Open Source Software integrated with RFID Technology used for issuing and returning of book with Kiosk and Drop Box devices. The Institutional Repositories are also provided with digitized Ph.D Theses and Question Papers etc. e-ShodhSindhu (Online Journals) and e-books facility is provided to the users including remote access. The Digital Knowledge Centre in the Library is provided with 40 Computers for e-Journal access. The plinth area of Library is 14338 Sq.ft.
Working Hours
Timings
Monday-Friday
08.00 A.M. - 08.00 P.M.
On all Saturdays
09.00 A.M. - 05.00 P.M.
On all Sundays
09.00 A.M. - 01.00 P.M.
During Vacation
09.00 A.M. - 05.30 P.M.
9.30 a.m.- 5.15 p.m. (Circulation)
Rules
Users are requested to deposit their bags/belongings (other than valuables) at the Property Counter.
Users should register their names in the biometric attendance system kept at the entrance.
Users are requested to observe silence inside the library.
Users are requested not to replace the books on shelves.
Misuse of library facilities is an offence and calls for punishment as decided by the competent authority.
Users are requested to keep the library neat and tidy.
Borrowing Facilities
| Sl. No. | Member Details | No. of Books | Loan Period |
| --- | --- | --- | --- |
| 1 | Faculty Members | 10 | One Year upto 30th June |
| 2 | Scholars | 5 | 30 Days |
| 3 | Students | 3 | 14 Days |
| 4 | Non-Teaching Staff | 5 | One Year upto 30th June |
Books borrowed must be returned on or before the due date.
Renewal can be done on the due date.
Books have to be physically presented for renewals.
Books will be renewed if there are no reservations.
Users are requested to verify the physical condition of the book/s before borrowing.
For late return of books, overdue charges will be collected as per rules in force.
Users are requested to collect receipt for fine amount paid by them.
Classification Scheme
Dewey Decimal Classification
Overdue Charges
Overdue charge of 50 Paise per book per day is charged for late return of books
Holdings
| | | |
| --- | --- | --- |
| 1 | Books | 1,79,761 |
| 2 | E-books | 576 |
| 3 | Current Periodicals | 300 |
| 4 | Back Volumes | 4,253 |
| 5 | Databases | 23 |
| 6 | Theses (Ph.D) | 1,125 |
| 7 | Dissertations/Project Reports | 7,377 |
| 8 | Videopaedia | 25 |
| 9 | CD/VCD collection | 1,700 |
| 10 | Braille Books | 12 |